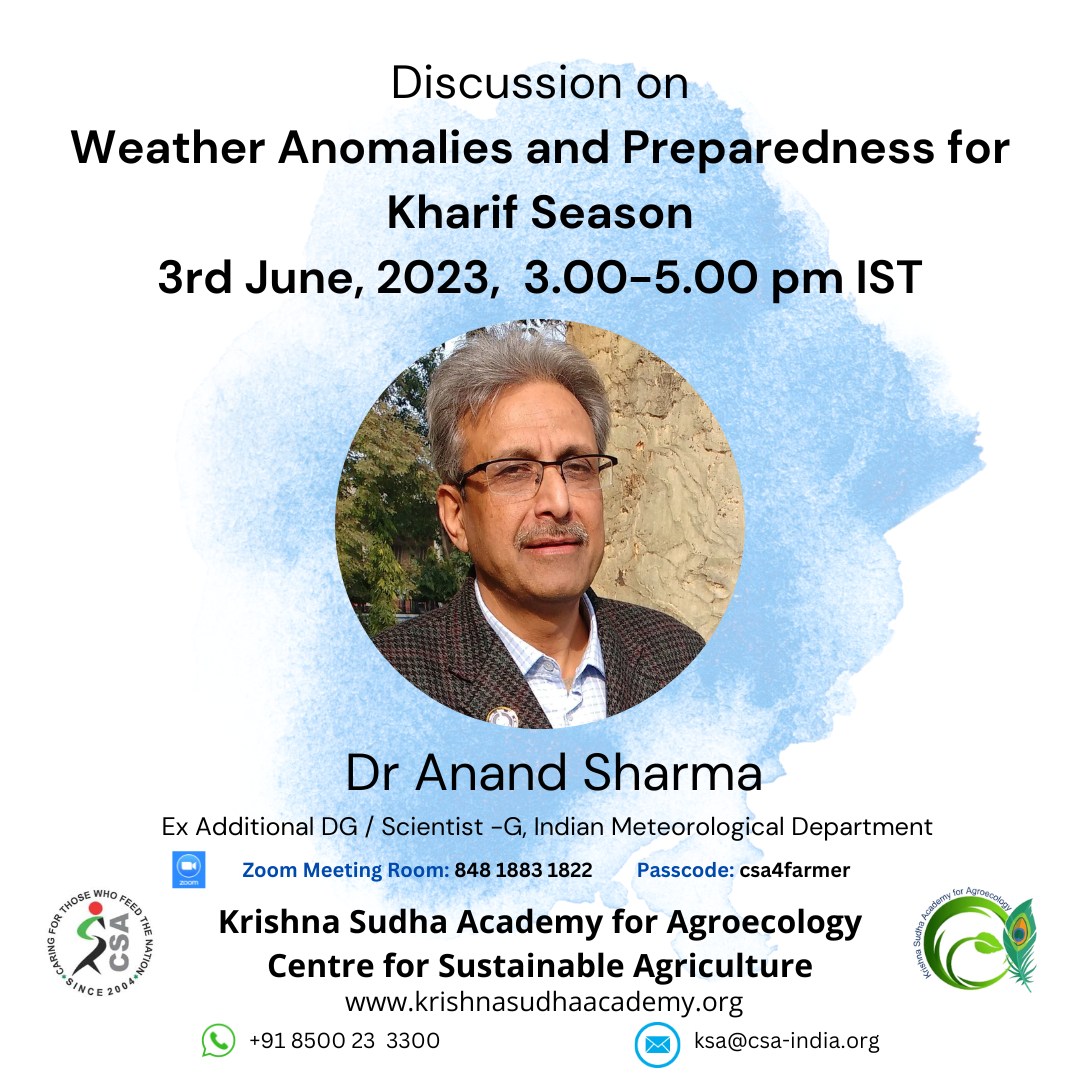 Knowledge Spectrum Series-2
Weather Anomalies and Preparedness for Kharif, 3rd June 2023
Speaker: Dr Anand Sharma, Ex-Additional DG/Scientist-G, IMD
Host: Dr G. V. Ramanjaneyulu, Executive Director
The Context
August 2021 was the sixth-driest month since 1901
Excess rainfall in September 2021
Heavy rainfall damaged the standing Wheat crops at the beginning of 2022. Excess rainfall in September 2022 led to widespread crop loss
Heavy rains in April 2023 damaged crops like Paddy and Mango and "El Nino" is still evolving.
Unpredictable weather, in addition to pests and diseases, adds to the list of crop-damaging factors. With neither risk mitigation efforts nor the risk coverage mechanisms working, it is pushing the farmers and their crops into losses.  In this context, a discussion was organized with Dr Anand Sharma, Ex Additional DG/Scientist-G, Indian Meteorological Department to understand the weather anomalies and preparedness for Kharif.
Key Questions
As Kharif is approaching, what is the prediction about the rainfall during the season?
There were conflicting messages from private agencies and IMD about the rainfall this season about extreme weather events. How to understand this?
What is the biggest risk farmers are facing with respect to weather anomalies and What farmers should do to be prepared?
How and what weather parameters are monitored and included in advisories and how accurate are these advisories?
If an FPO/Village organisations want to get localized weather information what is the source and how granular we can get?
The larger question, in the situation of increasing risk with weather anomalies and climate change, is how to reduce risk and cover it from a farmer's point of view and what kind of policy changes will help.
The summary of the presentation
Indian Meteorological Department's prediction is Kharif, 2023 is going to have normal rainfall with 96% average rainfall will be received during the season.  The challenge Indian agriculture is facing is variability in distribution of the rainfall while overall rainfall may be remaining as same as normal.
Climate variations are common in monsoon countries and their impact is higher on crop production. In India, normal annual rainfall is 87 cm spread over four months from June to September. Climate variability can be of three types:
Late onset of monsoon: Late arrival of monsoons and consecutive delays can effect crop production. The farmers may have to shift to short-duration crops or if the delay is longer, may have to change the cropping pattern.
Midseason dry spell: In the middle of the season from July to August, there can be a dry spell spread over 2-3 weeks. Rarely there may be two consecutive dry spells.
Early withdrawal: Monsoon may withdraw a few weeks earlier leaving the last stages of the crop to fail.
The suggestions for preparedness
The choices of cropping patterns and crop varieties should be based on the local soil and weather conditions. For eg, if the annual rainfall in semi-arid regions is 40-60 cm, the crop water requirement should not be more than that.
Sustainable production practices like increasing soil organic matter, using mulch, and using drought-resistant varieties can help to get over the effects of all variabilities.
Developing a local crop weather calendar with information about pest and disease occurrence, critical stages of crop growth, rainfall days along with other weather parameters can help farmers to take better decisions.
All farmers should get registered for crop/weather insurance.
Access to weather information on the IMD site
Radar Maps to know immediate weather conditions for the next two hours: The maps are located on the home page of https://mausam.imd.gov.in/
Choose Radar> Radar and chose the radar station from the map below.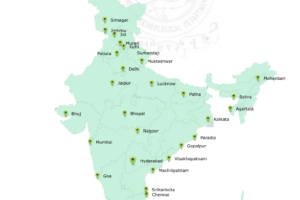 Below can see the radar maps showing current weather conditions for the next two hours.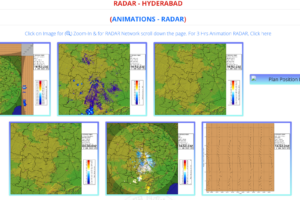 The colour codes are blue – no or low rain and red is heavy rain which may include thunderstorms. Animated images can be accessed by clicking on the animations link.
Weather forecasts for agriculture are issued at RMC/MC level through their Agromet Advisory Service (AAS) units. Five days' quantitative district-level forecasts are issued by Regional Meteorological Centres (RMCs) and MCs twice a week using Numerical Weather Prediction model products, after carrying out value addition based on synoptic analysis. The final forecast is forwarded from AAS units of RMCs/MCs to various Agro Meteorological Field Units (AMFUs) and District Agro-Met Units (DAMUs) of the states. Based on these forecasts, AMFUs and DAMUs in turn issue agromet advisories for the farmers of their respective areas/districts. The coordination with RMCs/MCs and AMFUs/DAMUs is managed jointly by the Head (AASD), IMD New Delhi and the Head (Agromet), IMD, Pune.
IMD also gives forecasts for long range (for the year) and extended range (four weeks). The forecast is given on eight weather parameters-High and low temperatures, rainfall, high and low relative humidity, atmospheric pressure, wind direction and solar radiation.
The other information services on the IMD which can be accessed are
The important ones for farmers are:
Rainfall information: Detailed rainfall data district-wise, over months etc can be accessed at https://mausam.imd.gov.in/responsive/rainfallinformation.php
Monsoon Information: Provides detailed information on monsoon (with normal rainfall and current rainfall updated every day and can be accessed at https://mausam.imd.gov.in/responsive/monsooninformation.php
Agromet Advisory services: Weather advisory services, district-wise or block-wise can be accessed at https://mausam.imd.gov.in/responsive/agromet_adv_ser_state_current.php.
The details of weather predictions for the next five days and pest and disease situations are given and updated regularly.
The Android app Meghadoot can be accessed at https://play.google.com/store/apps/details?id=com.aas.meghdoot